Matt Fogg's musical journey began as a trumpet player at the age of ten. His interest in the piano, however, didn't develop until high school, when he began listening to greats such as Oscar Peterson, Bill Evans, and Keith Jarrett. These legendary jazz musicians, among others, helped Matt discover a new passion to pursue…jazz piano. Matt attended the University of New Hampshire, earning a degree in Music Education. He performed in various university ensembles, and had the opportunity to play with legendary jazz musicians such as Clark Terry, Slide Hampton, Bud Shank, and Jimmy Heath.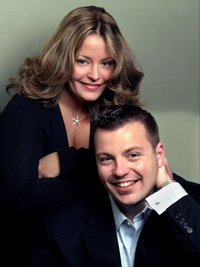 During his UNH years, Matthew began a musical collaboration with vocalist and fellow student Nicole Hajj. The two compiled an extensive repertoire of Matt's original arrangements of classic jazz pieces, and began performing at respected clubs and upscale restaurants throughout New England. Following graduation, Matt embarked upon a career as a music educator, working as the choral director at Morse High School in Bath, Maine. He nevertheless maintained an active performing schedule, and his musical partnership with Nicole reached a pinnacle with the recording of a live CD in the fall of 2004.
The release of Live at the Azure Café in early 2005 resulted in two television appearances on the WCSH news magazine show, "207″, as well as a live-in-the studio concert for Rich Tozier's "Friday Night Jazz" program on Maine Public Radio. The disc garnered glowing reviews, and received airplay in numerous states and half a dozen countries. Matt received an additional musical "highlight" in 2005 when he was asked to join an impressive roster of artists performing for jazz legend Clark Terry's 85th birthday celebrations at UNH.
Shortly after the release of the Azure CD, Matt began to develop a keen interest in the sounds (not to mention recording possibilities) of vintage keyboards He began composing in earnest, and was soon hard at work on a second CD, a collaborative venture with vocalist Cheri Gaudet Grimmett and guitarist Scott Morgan. The CD, released in May of 2006, was called This Is What You Want and effortlessly embraced a wide range of musical styles. Matt's determination to record original material resulted in a CD filled with songs that conveyed humor, charm, honesty, and a sense of searching; personal, as well as spiritual. As with the Azure disc, This Is What You Want was greeted with consistently positive reviews, and received a surprising amount of airplay for an independent release. Not only were Matt's keyboard and arranging skills frequently singled out for special praise, but the disc as a whole was commended for the "big label" sound of its production—not bad for a shoestring budget! Once again, Rich Tozier invited Matt, Scott, Cheri, and the band onto "Friday Night Jazz". This ensemble also played two enthusiastically received and energetic sets at the Festival of Cultural Exchange in Portland. In late 2006, Matt was asked to join an up-and-coming band then making its mark on the local Portland concert scene, Jaye Drew and A Moving Train. The band worked diligently into 2007, with noted New York producer Mark Zuppe, recording their debut CD—with an expected release in the fall of 2008.
In the spring of 2007, Matt was invited to participate in a special series of concerts celebrating the inauguration of Bowdoin College's new state-of –the-art, acoustically perfect Studzinski Recital Hall. Matt headlined a concert with a first year jazz piano student of his, Hassan Muhammed (an incredibly talented musician in his own right). The two were supported by a sterling group of noteworthy jazz musicians, and a CD was recorded for possible future release.
2007 also witnessed a breakthrough of sorts in the "print media". Early in the year, the well-respected (not to mention nationally distributed!) Keyboard Magazine ran a piece on Matt, which, true to that publication's format, emphasized his musical influences as well as equipment preferences. Additionally, Matt was featured in "Port City Life" as one of four native Maine "twenty-somethings" whose lives are having a noticeable impact on the world around them. The most impressive news was yet to come, however! The prestigious Yamaha Corporation, internationally known for an outstanding line of musical instruments and products, named Matt as their first endorsee in a new "Artists in Education" program!
In 2008, Matt organized the first Bridge Music Festival. The festival was designed to foster a connection between students and professional musicians in the greater Portland area, bring the schools and greater community closer together, and raise additional funds for the music programs in the Portland middle schools. The result was an unqualified success! The festival received widespread television and newspaper coverage, and was attended by a sizeable, and enthusiastic, crowd.
After teaching in the public school arena for several years, Matt decided to transform his unique skills and experiences into an exciting, and challenging, new venture. In August of 2008, he (and two partners) launched the Midcoast School of Music. Interest has been tremendous in its first few years with over 300 students at two campuses – in Bath and Portland. The school offers individual lessons with skilled instructors as well as unique and challenging ensembles which perform at venues in Southern Maine.
Although he's deeply immersed in his own school, Matt will continue as a jazz piano instructor at the University of Maine at Augusta and jazz piano instructor/lab coach at Bowdoin College in Brunswick.
In 2012 Matt married the love of his life and lifelong musical partner Stephanie Fogg. They are blessed with 3 beautiful children (Paxton, Palix & Brixton) and split their time between their home in Bath, Maine and Hobby Farm in Palmyra, Maine.