from Keyboard Magazine – January 2007 by Ed Coury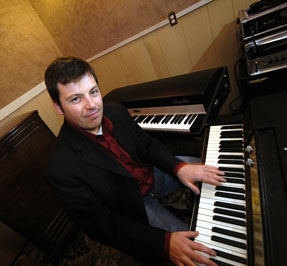 In 1903, George Bernard Shaw wrote, "He who can, does. He who cannot, teaches." If George were around today he'd be eating those words, after meeting Matt Fogg.
The 28-year-old music teacher does more in one week than many of us do in a month. Monday through Friday, Mr. Fogg is the vocal music instructor at Lyman Moore Middle School, near his home in Portland, Maine. Weekday evenings he teaches jazz piano at the University of Maine at Augusta, and Bowdoin College in Brunswick, Maine. And as if that weren't enough to keep him busy, Matt directs the Jewish Youth Chorus of Maine (which is no small feat; Matt isn't Jewish, so he learned the repertoire from scratch).
Okay, it's apparent that Matt can teach. But can he "do"? The answer is yes – and he does it all weekend long.
You might catch Matt playing jazz standards at a classy Portland restaurant. He brings along a Yamaha P120 or P140 – and sometimes adds female vocalist Nicole Hajj. Matt and Nicole have recorded together, and their jazz tunes have been played on radio stations overseas.
Those gigs are quite a contrast to the shows Matt puts on with his cover band, Retrospecticus. "We try to do the whole rock star image," he says. "We wear T-shirts and try to put on a really good rock show." He describes the band's playlist as "a mix of disco, soul, rock, and funk. Just all kinds of covers from the '50's to the late '80's."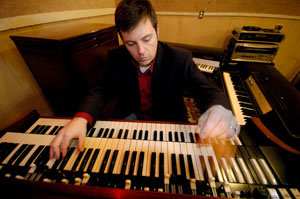 Matt's Retrospecticus rig consists of his Yamaha P120, the 73-key version of the Nord Electro 2, a microKORG, and sometimes an Angel melodica, "for a few tunes like Stevie's 'Isn't She Lovely'." Matt likes the sound of Yamaha pianos (which explains why he owns two). He puts the Electro in the mix for its great clonewheel abilities. And the microKORG is added for classic and modern synth sounds. "It has some of the cool analog sounds that Suge Knight and Snoop Dogg used, like on Doggie Style."
The Motion Sound KP200S is Matt's main amp. He runs in stereo and sends a feed from the amp's stereo outs to the band's P.A. system when needed. Monitoring is in-ear, with Shure E3 High Energy earphones. Matt supports his boards with an On-Stage Stands Folding Z keyboard stand with an added tier, or the two-tier On-Stage KSA7500 X-style stand.
The makeup of Matt's rig is subject to change. Sometimes he takes his Kurzweil PC88 to a job. For really big shows, such as the Festival for Cultural Exchange in Portland, he puts his arm and back muscles to the test and brings his Hammond A-100, Leslie 120, Wurlitzer 200A, and Fender Rhodes Suitcase.
Matt may be in the classroom five days a week, but on-going recording projects with vocalist Jaye Drew as well as Morgan, Fogg, and Grimmett (an original group which recently released a CD) might make him a star one day. "All the things I do are an attempt to get out there and be known, and get my stuff heard," he says. If he did make it to the big time, Matt would like to write and produce, making enough, he says, "to do whatever I want, when I want."
Being a part-time performer has paid off in the classroom for Matt. He brought Retrospecticus to school one night to play a two-and-a-half hour dance. "Lot of kids in Portland never have a chance to hear a concert," he says, "so I wanted to get the band in there."
His effort paid off. "255 kids joined the chorus after we played," he says. "The previous year we only had 80. Being a weekend pro gives a teacher some street cred. If they don't find me credible, they won't listen to anything I tell them."